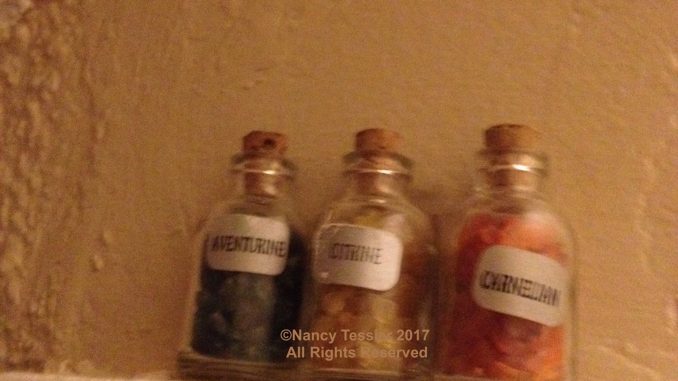 These crystals have been sitting on top of a door frame of my house since we moved in almost 6 years ago and before that, they were in my other house for at least half dozen years. From left to right, they are Aventurine, Citrine, and Carnelian which are supposed to bring good things to the household.
Aventurine is meant for friendship, prosperity, and creativity. Citrine helps the imagination, clears the mind, and encourages fullness of life. Carnelian is for motivation, endurance, and courage.
Originally I posted this picture on Facebook to show a woman who was learning to become a Tarot card reader and was working at opening her own shop to do that, as well as hold meditation sessions, and sell crystals among other things.
For the past 3 or 4 years I have had posts hidden on my Facebook account as well as this website which were only visible to myself and this other person but now I'm at the point where I think it should be shared openly for anyone who may benefit from this information. Along with explanations for the meaning of these crystals as well as others, I am adding making visible all the meditation scripts.