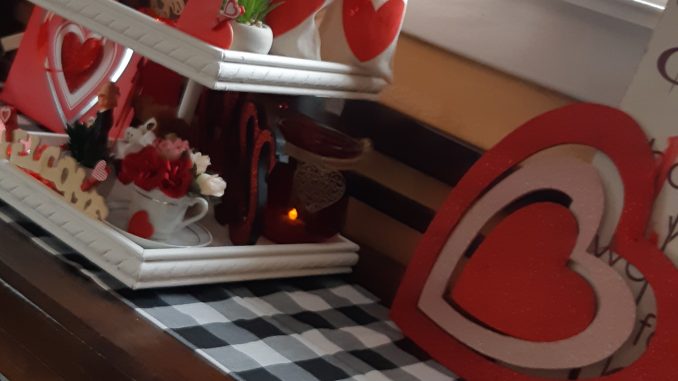 I didn't have a tiered tray for all the cute little tchotchkes I have for the smaller occasions like Valentine's Day, St Patrick's Day, Easter. Smaller in a sense that I don't decorate as elaborately as I do for Halloween and Christmas. So after joining several groups and seeing the lovely trays they have, I showed my husband what I liked and he made me one.

It's 3 tiers; 12 inch, 10 inch and 8 inch squares with a nice decorative trim to give it a little something extra. My job (besides the honey-do list 😉 ), was to paint it.


Here it is decorated with some of my Valentine tchotchkes. I also added the decorated coffee cup and saucer that was hand crafted and gifted to me by Angel Mc, when I still had my coffee shop and retail centre open. I usually have it at our coffee bar but it is perfect on this tray.

I added a few more decorations on the fireplace mantle to match the decorations on my office credenza. All my Valentine decor matches (more or less).