New Year's Day Prosperity Soup
In the South they say if you eat this soup on New year's day, you will have a happy prosperous year.
Be sure to have all the ingredients so you can start the year right.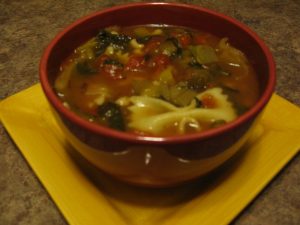 Ingredients
2 Tbs. olive oil
1 large leek, quartered, white and light green parts chopped (2 cups)
2 cloves garlic, minced (2 tsp.)
1 Tbs. seasoning (use oregano, crushed chile, seasoned salt …. whatever you like)
8 oz. kale Or spinach, tough stems removed, leaves cut into 2-inch pieces (4 cups)
1 15-oz. can diced tomatoes
1 15-oz. can diced tomatoes with green chiles
¾ cup dried black-eyed peas
1 qt. low-sodium vegetable broth
¾ cup farfalle pasta
Shaved Parmesan curls, for garnish
DIRECTIONS
1. Heat oil in large pot or Dutch oven over medium heat. Add leek, and sauté 5 to 7 minutes, or until soft. Add garlic and seasoning, and sauté 1 minute more. Stir in kale, and cook 5 to 7 minutes, or until leaves are wilted, tossing occasionally.
2. Add diced tomatoes, diced tomatoes with chiles, black-eyed peas, vegetable broth, and 7 cups water; season with salt and pepper, if desired. Cover, reduce heat to medium-low, and simmer 40 to 45 minutes. Stir in pasta, and cook 7 to 10 minutes more, or until pasta is al dente and black-eyed peas are tender. Serve garnished with Parmesan curls.
Here's one I posted on Blogger in 2012 http://buff.ly/1wxtrG4