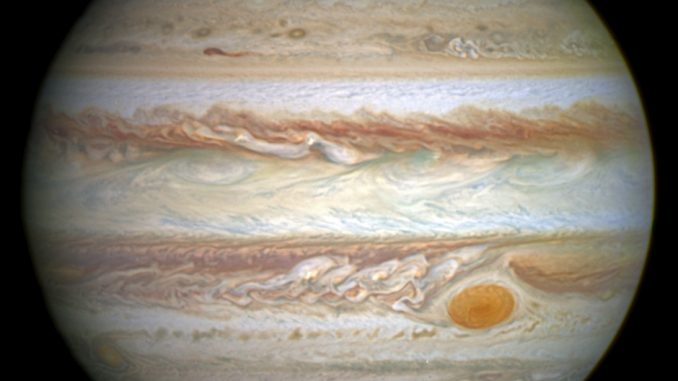 Are you willing to wait to see the largest and oldest known storm system in the Solar System? In the featured video, Jupiter's Great Red Spot finally makes its appearance 2 minutes and 12 seconds into the 5-minute video. Before it arrives, you may find it pleasing to enjoy the continually changing view of the seemingly serene clouds of Jupiter, possibly with your lights low and sound up. The 41 frames that compose the video were captured in June as the robotic Juno spacecraft was making a close pass over our Solar System's largest planet. The time-lapse sequence actually occurred over four hours. Since arriving at Jupiter in 2016, Juno's numerous discoveries have included unexpectedly deep atmospheric jet streams, the most powerful auroras ever recorded, and water-bearing clouds bunched near Jupiter's equator.
SOURCE:
A Flight over Jupiter Near the Great Red Spot 
Image Credit: NASA/JPL-Caltech/SwRI/MSSS; Video Processing & License: Kevin M. Gill; Music: Vangelis
https://apod.nasa.gov/apod/ap201019.html
https://youtu.be/xh3EKDghbuU
Featured Image: NASA, ESA, and A. Simon (Goddard Space Flight Center) – http://www.spacetelescope.org/images/heic1410a/ or http://hubblesite.org/newscenter/archive/releases/2014/24/image/b/ This full-disc image of Jupiter was taken on 21 April 2014 with Hubble's Wide Field Camera 3 (WFC3).