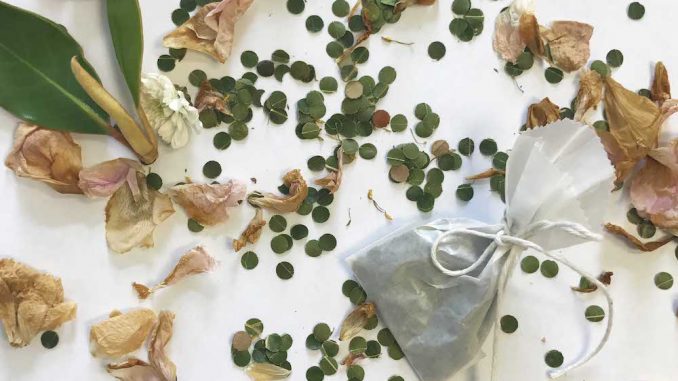 Confetti is often used at weddings for decoration, fun, and sometimes to even spice up Instagram posts. But many people think confetti is harmless and forget the environmental impact that comes with it, or even the cleaning!  Confetti may blow away in the midst of taking out the trash, and be mistaken as food by small animals due to the colorful pieces. The microplastics may also clog and get into our water, Yuck!
Leaves are everywhere, especially in fall.  So why not grab a few and use them to your advantage as leaf confetti! 
So if you're looking for confetti, this biodegradable substitute is the real deal! Need a quick idea? Your mother's roses might look great down the aisle… Not so much as her red face when she realizes what you've done 😉
This simple eco-friendly DIY consists of the leaves in your backyard and a hole punch. You'll have beautiful different coloured confetti in no time.
These simple steps don't have to just be completed with tree leafs, but as well as petals from flowers, small sticks, different leaves like bushes that may add texture, your possibilities are limitless, money-saving and local. 
So.. let's get to the DIY!
How to Make Confetti
Here's the 5 simple steps to your eco-friendly confetti!
Step 1. Gather around a bunch of leaves or flower petals, colour to your taste
Step 2. Make sure you have a good working space and lay out the leave
Step 3. Have a glass container nearby to keep the confetti sealed in
Step 4. Begin hole punching around the leaf until you get to the centre
Step 5. You now have your easily made confetti!