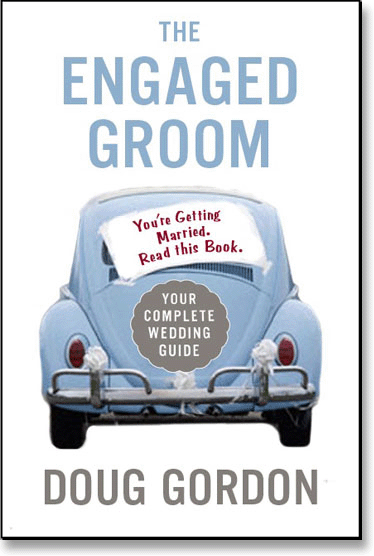 You're Getting Married
The Engaged Groom
by Doug Gordon
The days of showering,
shaving, and just showing up are over.
"Planning a wedding is a massive undertaking, a task that has traditionally been the exclusive province of a bride and her mother…"
Doug Gordon on NBC's "The Today Show"
Thursday, August 3rd
In "The Engaged Groom": Doug Gordon shows you how to prepare for and participate in the big day: your wedding. By working with your talents and interests, you can turn the experience into a fun, joint venture with your bride.
Good with numbers? Manage the budget
Air guitar champion? Select the band.
Like to eat? Help out with the menu.
Along with real-life stories, The Engaged Groom includes information and advice on handling difficult guests, the pros and cons of destination weddings, obtaining a marriage license, making untraditional choices like having a female best man, and more. With this book, every groom-to-be can help give a much-needed dose of sanity to the process and take an active role in making his wedding truly memorable.
About The Author

Doug Gordon is the creator of the popular blog PlanetGordon.com.
He is also a television producer and writer whose work includes "Modern Marvels" for The History Channel and "Who Wants to Be a Millionaire" for ABC. He lives in Brooklyn, New York, with his wife, Leora Kaye.