Styles Guide
These are samples of the different dress styles available to the bride. choose a style that best fits your wedding style, level of formality, comfort and budget.
Select the styles shown, to see a large view of the gown along with a brief description of each.
Click on the image to go to the corresponding page
The Mermaid & Grecian Mermaid Gowns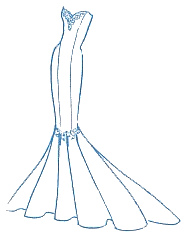 Form hugging style that has a separate, more flowing section starting several inches below the knee, which flows more freely and is, in itself, the train. Not a style that is bustled, however the gowns have a wristlet inside the furthermost section of hemline that is worn like a bracelet and allows the dress to cascade in flowing, carefree layers, to the movement of the brides arm.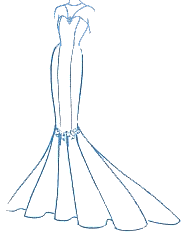 Illustrated above as a strapless model and (below) with a grecian neckline. This style can also be halter style with or without a collar, spaghetti strap or delicate type necklines and is rarely worn with sleeves unless they are also form fitted.
Most of the detail and beading is at the point where the form-fitted top section attaches to the flowing hemline/train , with similar, less intrusive beading on the uppermost portion of the bodice.
The Ball Gown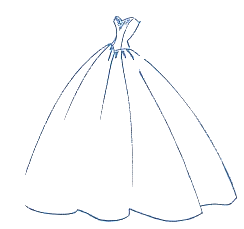 The ball gown is a formal style that is worn with crinoline to keep it's shape wide and full throughout the ceremony and reception. Available either with or without an attached or detachable train that is usually bustled or removed after the ceremony, prior to the brides arrival for the reception.
Gowns made of silk or satin need crinoline, however, if the gown is comprised of several layers of tulle (up to seven layers or more), the designers will normally add layers of stiffer netting that eliminates the need for crinoline.
Belle Gowns
The Belle (or Bell) gown is similar to the Ball gown in general shape and length but is more heavily embellished with layers of fabric draped around the hemline. Reminiscent of the gowns worn in the old south and featured in many vintage movies. This is an attractive style that customarily is either strapless, has shoulder hugging bodice or off-the-shoulder straps
The Princess


The most dramatic of the A-line silhouettes, princess wedding dresses are a classic choice for brides planning their fairytale wedding. Intricate beading and shimmering embellishments typically grace the upper halves of these gowns, with dreamy layered skirts that, despite their volume, create a slimming effect.
The Sheath
The sheath gown is also known as the "slip" dress.
It is the least fussy of all styles with very little embellishments. It's dignified and elegant with spagetti or similar style thin straps and is best suited for soft fabrics that fall gracefully. The sheath can be worn by brides of any age or shape but is most suitable for brides without extreme curves, as this style dress must hug the curves without being too snug.
Style Guide Series
---
Express your individuality and look your best for your special day.