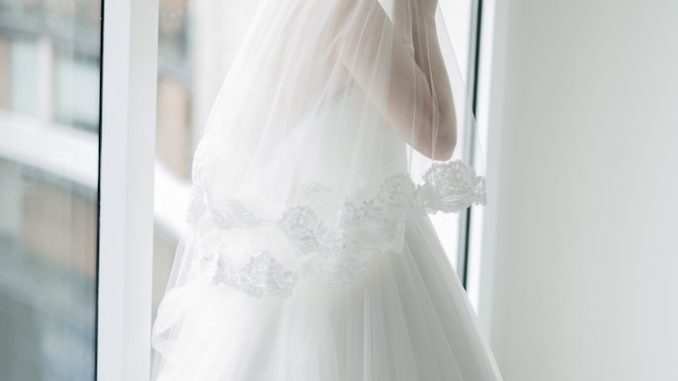 There are many headpiece choices for today's bride. She can choose from a range of traditional styles based on the type of gown she will wear, the formality of the occasion, and the time of day the wedding will be held. In general, a bride should choose a headpiece that is in proportion to her dress and has similar trimming details. If the dress is short, ivory, and trimmed in pearls, chances are she shouldn't shop for a long white veil trimmed in lace.
Headpiece Shapes
Headpieces can be found in a variety of shapes.
Tiaras and Crowns: Typically seen at formal weddings, these can be decorated with rhinestones, pearls or jewels. Sizes and styles ranges from tiny pieces designed to encircle a small bun, to large ornate crowns that would make the Queen of England jealous. Be sure to choose a style that is proportional to your gown.
Wreaths and Flower Circles: Perfectly suited for outdoor or casual weddings, wreaths and circlets made from flowers and greenery can be worn with veils or without.
Headbands and V-Front Bands: Headbands are especially suited to brides who wear bangs. Bands can be worn with or without veils, and can be covered in simple fabric matching the wedding gown, or decorated with flowers, lace, pearls or rhinestones.
Skullcaps: Sometimes called Juliet caps, these are usually small frames that fit very close to the head, supporting the veil.
Barrettes and Combs: Modern brides sometimes forego formal headpieces and veils altogether and wear simple combs or barrettes. These can be decorated with flowers, pearls or rhinestones. The emphasis is on the hairstyle rather than the decoration when these are worn.
Hats: From small pillbox shapes to large round picture hats, from sheer lace and tulle to heavy brushed felt, the variety in hats is endless. Worn with veils or without, depending on the style of the hat.
Veil Length
Veil length is usually determined by the formality of the wedding and the style and detailing of the gown. There are five traditional veil lengths:
Shoulder length ends either just below the bottom of the ears, or just below the shoulders. This length is traditionally worn alone at a morning, afternoon, informal or semi-formal wedding. It works well for brides who wish to show intricate beadwork on the back of their gown. When used as a blusher and combined with other lengths, it is appropriate for formal and semi-formal weddings.
Elbow length ends just above or at the bride's elbow. It is used for gowns with no train or for gowns with detailing at the waist. This length works well with a blusher.
Fingertip length is currently the most popular length for a veil. This length is perfect for semi-formal or formal weddings in the afternoon or evening but can be used for any type of wedding. The veil ends just below the middle knuckle of the middle finger. A fingertip veil is particularly beautiful when combined with an elbow length blusher.
Chapel length falls to the floor, and is appropriate for semi-formal or formal weddings. It is usually combined with other shorter layers, and worn with gowns that have at least a slight train.
Cathedral length flows past the hem of the gown and extends onto the train at least one foot. Cathedral length veils are usually three yards in length and can go to fifteen yards. They are typically used for formal evening weddings, often combined with a fingertip blusher.
One thing to remember is that veil lengths can be customized to the height of the bride. Although a 36-inch fingertip veil may be standard, the length can be adjusted so that it falls correctly to the middle knuckle of the bride's middle finger.