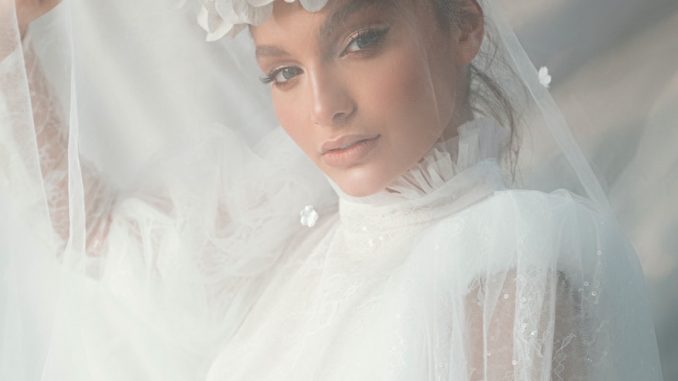 Traditionally, veils were made from white or ivory tulle with plain, pencil or satin cord edging. This allowed the focus to be on the bride's face, her headpiece and wedding gown. Now custom designer veils have an abundance of embroidered appliqués, rhinestones, bugle beads, sequins, crystals and pearls. Besides the traditional edging, now the bride can select colored ribbon edging to match her colored wedding gown. Many online companies even offer to dye the tulle to match the wedding gown. Other edging options are Venetian lace, pearls, rhinestones, bugle beads and gold and silver filament.
Accents can also be added to the wedding veil and most companies are happy to do it. The bride can order a veil with scattered rhinestones and pay for scattered pearls as well. She can have those pearls in color to match her gown. She can choose a garnet ribbon edged veil to match the upside down garnet "V" at the back of her train. Unfortunately, this will make a dark bar across her back and distract from the loveliness of her gown.
A heavily decorated veil will also take away from the bride's headpiece and jewelry. A dainty tiara will look overpowered with a heavily embroidered veil and the bride's earrings will be lost under the edging. In some cases, the veil can distract from the embellishment of the wedding gown. A charming, corset back on a wedding gown would best be served by a plain veil or no veil at all.
Many brides are now choosing to go without a veil. Bridal fashions have been clean and simple in recent years. Gowns are strapless, or have spagetti straps with plain matte satin fabric. Trains are shorter and less elaborate (although lace is starting to make a comeback). The bride is now using a detachable veil and removing it completely at the reception, wearing only a beautiful tiara. A simple veil, with scattered pearls or rhinestones to match the wedding gown, will make the bride look perfect.
About the author:

Kathleen Terrana is the owner of www.beautiful-bridal.com Beautiful Bridal specializing in discount tiaras, veils, bridal and bridesmaid jewelry. Visit our site for additional wedding tips, advice and information.