Each flower symbolizes a different meaning and is approximately 10% of your wedding budget
You can choose your flowers based on the meaning and symbolism associated with the individual flowers, or simply choose the flowers most attractive to you.
The flowers you choose can help express your individual style and personality and should complement the overall theme of the wedding.
The following is a list of most commonly used flowers.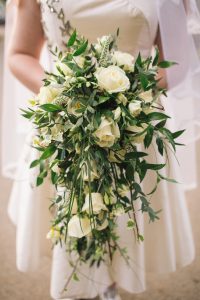 However, your florist can suggest others that may suite your needs and overall budget, theme or style on a more personal level. 
Please read the section Choosing Flowers for further information.
| | |
| --- | --- |
| Alstromeria | Devotion |
| Allysum | Beauty and Modesty |
| Alstroemeria | Devotion |
| Amaryllis | Beautiful and Proud |
| Anjelica | Inspiration and Magic |
| Baby's Breath | Pure Heart |
| Bluebell | Consistency |
| Broom Flower (aka Genistra) | Goodness |
| Buttercup | Riches |
| Calla Lilly | Magnificent Beauty |
| Camellia | Perfect Lovliness |
| Carnation | Love and Fidelity |
| Chrysanthemum | Truth |
| Dark Pink Rose | Romance |
| Daisy | Share Your Feelings, Cheerfulness |
| Eucalyptus (seeded) | Protection |
| Forget-me-not | Do Not Forget |
| Foxglove | Youth |
| Fuschia | Confident Love |
| Gardenia | Refinement |
| Genistra (aka Broom Flower) | Goodness |
| Honeysuckle | Devoted Affection |
| Hyacinthe | Modest Lovliness |
| Ivy | Fidelity |
| Jasmine | Grace and Elegance |
| Lavender Rose | Enrichment |
| Light Pink Rose | Grace |
| Lily | Purity |
| Orange Rose | Appreciation |
| Orchid | Refined Beauty |
| Red Rose | I love You, Passion |
| Red & White Rose | Unity |
| Rosemary | Remembrance |
| Sage | Health |
| Seeded Eucalyptus | Protection |
| Sweetpea | Meeting |
| Thyme | Resourcefulness |
| Tulip | Elegant Love |
| Violet | Faithfulness |
| White Rose | Innocence |
| Woodsorrel | Joy |