Dozens of icing roses accent this elegant wedding cake.
Courtesy of Wilton Industries, Inc.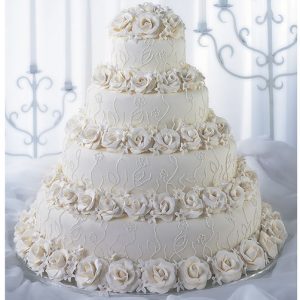 Supplies
6 x 2 Inch Round Pan
10 x 2 Inch Round Pan
14 x 2 Inch Round Pan
18 x 3 Inch Half Round Pan
Decorating Tip, No. 1
Decorating Tip, No. 7
Buttercream Icing Recipe
Ready-To-Use Rolled Fondant, 9 packages
Easy-Glide Fondant Smoothers
Plastic Dowel Rods
Gum Paste Mix
Floral Collection Flower Making Set
Cake Boards
Fanci-Foil Wrap
22 inch round plywood for cake base
Round cocktail toothpicks, 150
Box of tissues
Directions
Make flowers at least one week in advance. Use carnation cutters and directions from Floral Collection Flower Making Set to make the following gum paste flowers: 30 large roses, 60 medium roses, 14 small roses, 150 stephanotis.
To make flowers, mix gum paste 1 can at a time as needed. Make 30 bases for large roses (7/8 inch wide x 1 inch high), 60 bases for medium roses (3/4 inch wide x 7/8 inch high) and 14 bases for small roses (1/2 inch wide x 3/4 inch high). Let dry overnight.
For large roses, use large carnation cutters to cut petals. Assemble following roses directions on page 16 of set instruction booklet. (Hint: Make roses, one layer at a time, and let dry overnight. Wrap strip of tissue around petals to keep in position. Place on cookie sheet to dry).
Use small carnation cutter and follow same process for medium and small roses.
For stephanotis, follow instructions on page 34 of set booklet, steps 1-6 only. Use stephanotis cutter and toothpicks instead of wire. Let dry.
Bake and cool 2-layer cakes. For 18 inch cake, you will need to bake four half layers, each 2 inches deep, to make a 4 inch high cake. Prepare cakes for stacked construction. Prepare for rolled fondant by lightly icing with buttercream.
Cover cakes with rolled fondant, smooth with Easy-Glide Smoothers.
Using toothpick, trace Lacy Blossom Pattern starting 1 inch from bottom of cakes. Pipe pattern with tip 1 beads. Pipe tip 7 bead bottom border on all cakes.
Attach 18 large roses with buttercream, beginning on bottom tier. Insert stephanotis between roses.
Attach medium roses to 10 inch and 14 inch tiers and small roses to 6 inch tier. Attach remaining large roses and insert stephanotis on top of 6 inch tier.
Tip: This cake serves 243. The top tier of a wedding cake is often saved for the first anniversary. The number of servings given does not include the top tier.
See the current edition of the Wilton Yearbook cake Decorating for decorating techniques, cake construction methods, and information about products.