Wow your guests with this beautiful wedding cake design from Wilton. 
Courtesy of Wilton Industries, Inc.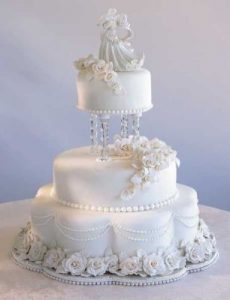 Supplies
Pan, 6 X 3 inch Round
Pan, 10 x 3 inch Round
Pan, 15 x 2 inch Petal
Tip, No. 3
Tip, No. 5
Ornament, Bianca
Crystal-Clear Cake Divider Set
Floral Collection Flower Making Set
Flower Formers
Fanci-Foil Wrap
Confectionery Tool Set
Gum Paste Mix (3 cans)
Ready-To-Use Rolled Fondant
Easy-Glide Fondant Smoothers
16 inch Cake Circles
Plastic and Wooden Dowel Rods
Buttercream Icing
Cornstarch

Directions
One week in advance, make gum paste flowers and leaves. Prepare gum paste according to package directions. Cut 105 large rose leaves, vein with veining tool from Confectionery Tool Set and dry on medium flower formers dusted with cornstarch. Using instructions from Floral Collection Set, make 8 rosebuds, 16 medium roses and 27 full roses. Let dry.
Prepare cakes for combination push-in pillar and stacked construction. Prepare cakes for rolled fondant by icing lightly with buttercream. Cover with fondant and smooth with Easy-Glide Smoothers.
Mark petal cake for garlands ¾ inch and 1-½ inches from top edge at each petal section. Pipe tip 3 bead garlands. Add tip 3 bead bottom border on 6 inch cake and tip 5 bead bottom border on 10 inch cake. Attach roses and leaves with buttercream around bottom border of petal cake and in a cascade on 6 and 10 inch cakes.
At reception, place 6 inch cake on pillars. Pipe tip 3 beads around pillars. Position ornament. Warning: Always place a separator plate on the cake before you position any figurine or ornament. This protects both the cake and your keepsake. For extra stability, secure your figurine to the plate with double-sided craft tape.
Tip: This cake serves 102. (Note: Top tier is often saved for the first anniversary. The number of servings given does not include the top tier.)
See the current edition of the Wilton Yearbook cake Decorating
for decorating techniques, cake construction methods, and information about products.